Your capacity to heal yourself is greater than you have ever imagined.
I just help nudge things along with thin needles, herbal medicine, my hands, and a little dietary/lifestyle advice, if needed.
What can acupuncture and oriental medicine do for you?
There is very little it can't do!  The World Health Organization acknowledges that acupuncture has been proven to treat hundreds of conditions, from infertility to osteoarthritis.  The National Institute of Health conducts and evaluates research on many forms of medicine, including acupuncture and Chinese herbology.  It treats physical problems such as back pain, sprained ankles, and frozen shoulder.  It treats skin problems, such as itching, hives, rashes, and acne.  It treats internal problems such as indigestion, asthma, and high blood pressure.  It treats women's problems such as PMS and infertility.  It treats emotional and psychological problems such as depression, anxiety, grief, and insomnia.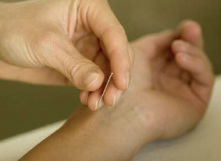 Oriental medicine is holistic.  I don't just treat your problem, I treat you.  If you have 'tennis elbow', I might examine your back, take your pulse, look at your tongue, ask about your diet, and even ask about your sleep habits!  All of these will inform us how you, as a whole person, can heal, along with your tennis elbow.
I came to Laith to see what he could do about my rib pain, which I never found good help for.  Laith really took the time to figure out what was going on. It was the first time any health care provider seemed really interested in me, and not just my problem or my insurance.  He figured out that the pain was connected to my anxiety and insomnia, which I didn't talk about until he asked me.  I took a chance and let him know about some of my past issues growing up, and he was very supportive, and explained to me that all these things were connected.  After four treatments, my rib pain was gone, I could sleep.  My thoughts about the past are still there sometimes, but they don't bother me.  Laith really took the time to get to know me, and help me know myself better.
What can acupuncture do for pain?
You have the right to live pain-free!  Pain management is the area where acupuncture is the most effective.  In oriental medicine, we have many diagnoses for pain conditions.  Three patients may present with 'back pain', but upon examination, I may find three completely different causes for their pain, and treat each patient very differently.  One patient may receive an herbal formula to strengthen her kidneys.  Another may get acupuncture on his legs only.  The other may need manual therapy on his neck!  I don't just treat pain, I treat you.
I've had low back pain for years, and I wanted to get off the pills my doctor prescribed me, because they gave me diarrhea.  Laith told me that whoever put me on the pills takes me off the pills, and that he would do his best to help.  The first thing he did was work on my neck with his hands, and for the first time in years, I could sit in a chair for more than a few minutes.  My following treatments, he only did acupuncture on my feet and arms.  I don't take pills anymore for back pain.  I really like that Laith took the time to figure out where my pain was coming from.  I thought he was just going to put a bunch of long needles in my back, but he never did!
Laith Naayem L.Ac., MSOM
Licensed Acupuncturist
New Windsor / Newburgh, NY
Glen Rock / Ridgewood, NJ
(845) 674-7639
LAN LLC